Some college, no degree: Getting Louisville's adult learners across the finish line
February 10, 2020
It's not always easy to finish what you start – especially when you're picking up where you left off decades ago.
That's why it's so inspiring to hear stories of Louisville adults who, years after leaving college, return to complete their degrees. Like the 45-year-old who wanted to finish not only for her own job security but to set an example for younger members of her church. Or 60-year-old university employee, passed over again and again for promotions, who finally completed her own degree. Or the multitude of parents – from their 20s to their 40s – who fell off track but returned to school to create a more fruitful future for their kids.
Their successes were hard earned, most notably by the students who overcame seemingly insurmountable obstacles to complete their degrees but also by the organizations and institutions that have worked to create clear pathways for adult students to return. For the last decade, 55,000 Degrees and its partners from higher education institutions, local employers, and workforce development have prioritized strategies to make it easier for adult learners, also known as "comebackers," to successfully complete school. Those efforts have resulted in progress: the number of working-age adults with some college but no degree is down from a high of almost 100,000, or about a quarter of that population, in 2011 to about 81,000, or 21.7 percent in 2018.
Progress is happening. But there's still much work to be done.
Last week, higher education and workforce leaders from the state and beyond gathered here in Louisville for a "Comebacker Convening," co-sponsored by The Graduate! Network and the Kentucky Council on Postsecondary Education, to talk about that work. We discussed the importance of collaboration between institutions and employers, strategies that have worked and not worked, making campuses more adult-friendly, and what efforts are currently underway. For 55K, it was a good chance to share the lessons we've learned in our own efforts to increase adult attainment.
Engaging higher ed and business: various approaches, varied success
When 55,000 Degrees and its partners started focusing on adults who had started college but never finished, it seemed they were the "low-hanging fruit," the ones that would be easy to convert to degree-holders. Turns out it's not so easy to re-engage those students. The life barriers that forced them to stop out in the first place – jobs, family, money – are often the same obstacles preventing them from returning. And more obstacles have piled on. As Hadass Sheffer, national president of The Graduate! Network, a national network of state- and community-based initiatives that help adults complete postsecondary education, explains:
"By definition, returning adult students are not starting with a clean slate; for many, it is not just a matter of filling out an application and registering. More often than not, they have issues that have to be addressed before even applying, such as finding the right academic program, beefing up academic and technology skills, figuring out how to juggle their families and work responsibilities, and sorting out financial aid issues. These issues also include flat-out barriers to re-enrollment stemming from their original stop-out, most notably outstanding balances and defaulted student loan debt. "
With this in mind, 55K approached our adult initiatives in two ways: working with employers to help their employees get back to school, which had mixed outcomes, and working with institutions to develop policies and programs that make it easier for adults to return.
Employers. Our efforts at engaging the business community to upskill its workers had some successes and some failures. 55K, with partners at the Mayor's Office and Greater Louisville Inc. (GLI), spoke directly to employers, helping them to understand that getting their employers to enroll in school is not just about offering a tuition reimbursement program – they also need to encourage employees to go, and make policies that allowed that to happen. We connected companies to contacts at regional postsecondary institutions – relationships that, in some cases, are still in place today. We gathered human resources professionals to determine how tuition reimbursement is being used, what employees need in order to return, and created a toolkit to help them do that. Some companies embraced that mission and found success.
One of those companies was Louisville manufacturer Universal Woods. The company of about 200 employees had a tuition reimbursement program in place, but it wasn't until President Paul Neumann saw the 55K data showing the number of "some college, no degree" workers in Louisville that he realized the opportunity.  "That was one of our 'aha' moments," Neumann told 55K recently. "We had an education program and were encouraging people to go, but I didn't understand at all how big the pool was already. I didn't realize that people weren't starting from zero."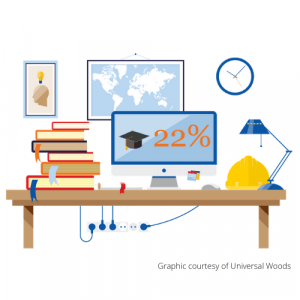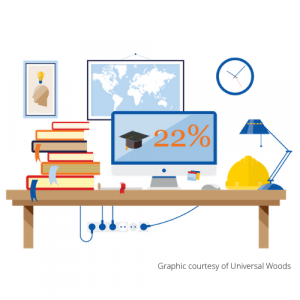 Universal Woods revamped its program, offering tuition up front instead of reimbursing employees, making it easier for them to take classes, accessing career counselors to help employees navigate economical degree paths, and celebrating when employees graduated. Neumann said about 10 percent of his employees have since earned 2-year, 4-year or graduate degrees and currently 12 percent are enrolled in classes.
"It has been hugely beneficial for us and helpful in terms of the education of our workforce, the retention of our workforce, and how our people feel about themselves," Neumann said.
What we found didn't work was creating an intermediary – or one-stop shop – to leverage business support and tuition reimbursement, and connect employees with pathways to degrees and industry credentials. KentuckianaWorks, Greater Louisville Inc. and 55K tried a few different iterations of this. Degrees at Work became Degrees Matter, and then finally Degrees Work was established as a "comebacker center" serving targeted employees at employers like Humana, Louisville Metro Government, Universal Woods and Trilogy. Though we plan to explore these initiatives in more depth in a future blog, the short story is that Degrees Work ultimately closed its doors because it could not find a sustainable funding model.
Higher education institutions. In addition to engaging employers, 55,000 Degrees convened college and university partners to work on ways to make it easier for adults to return. Our local postsecondary institutions stepped up, and have created programs and initiatives that cater to adults with online programs, weekend and evening classes, scholarships and, in the case of Ivy Tech, a new debt forgiveness program for returning students.
Another example of higher ed success is the University of Louisville, which has created proactive and innovative programs to increase access and probability of success for adult returners. The Bachelor of Science in Organizational Learning and Leadership (OLL), housed in the College of Education and Human Development, is tailor-made for the busy schedules of adult students with 8- and 10-week courses that meeting online or in the evenings. It also allows students to earn up to 48 credit hours for the relevant experience they've had in their careers. That flexibility and convenience makes returning to college less intimidating and overwhelming, said Assistant Professor Matt Bergman, the OLL program director who profiled adult comebackers in his book "Unfinished Business: Compelling Stories of Adult Student Persistence." The OLL program is regarded as one of the best in the country, and was awarded 55,000 Degrees' Innovation Award in 2013. It has grown from 130 students in 2007 to more than 500 currently enrolled.

"We're trying to change the tone. Instead of asking if the student is college ready, we're asking 'are we student-ready?'" Bergman told us.
Bergman and his team are also going an extra step to entice comebackers to return. This past year, they instituted a pilot program called Comeback Cards, which identified former UofL students that had five or fewer missing requirements to graduate. They mailed, emailed and called those students offering partial scholarships and mapping paths to finish. In six months, they graduated 48 students – almost all passing classes with B's or better.
"We just made it work for them," Bergman said. "There are so many pathways (to graduation) that didn't previously exist."
Lessons learned, what come next
Without grant funding or public support, we found it difficult to offer the right mix of services that would make a neutral community comebacker center self-sustaining.  Now, it's on higher education institutions and employers to make these pathways clear for adult students. Higher eds want graduates and employers want a more skilled and educated workforce.
Fortunately, adult returners are at the forefront of education conversations these days. And in this last year of the 55K initiative, it's a top priority for us. With much of the education work handed off to our successor organization, Evolve502, we have initiated an adult attainment network to explore best practices for adults. Working with Graduate! Network, we are re-convening our higher ed partners so they can collaborate and exchange ideas, asking questions like: how can others replicate Ivy Tech's debt forgiveness program, or UofL's academic forgiveness program? Can we reach some kind of collaboration to release transcripts for transfers between partnering institutions even if there is debt owed? How are colleges and universities making direct partnerships with employers, such as Spalding University's online RN to BN nursing program now being offered to Humana employees nationwide? We're also convening community-based education groups that work with adults, like the Urban League, Center for Women and Families, and Goodwill Industries to see what kind of help they need.
It bodes well that these conversations, like the ones we had at the Comebacker Convening this week, are happening. It's a conversation that is vital for the economic health of our city, and for the quality of life of our citizens. With continued collaboration and action, we can help get more of those remaining 89,000 potential "comebackers" across the finish line.