Child Care Is a Workforce Issue
April 28, 2021
Kentucky has a workforce problem. Even before COVID-19, Kentucky's labor force participation rate — the measure of how many people are working or looking for work — had been declining for 20 years. In 2019, it was 59.5%, four points below the national average. For women, the problem is even worse. The women's labor force participation rate in Kentucky lags about 10 points behind that of men, and 20 points behind when they are in their prime childbearing years of 25-34.
It's no secret why: women cite caring for children as their most common reason for not working.
The General Assembly was kicking around short-sighted ideas before the pandemic, such as cutting unemployment and Medicaid benefits, with the idea that women just need a kick in the pants to get to work.
Then COVID hit and disproportionately hurt women and mothers. Women, who are more likely to work in hard-hit service industries and less likely to work in insulated industries like manufacturing, made up the majority of unemployment insurance claimants, with mothers experiencing the longest stints of unemployment.
Month by month, the toll grew. Last fall, when virtual school started across the country, four times more women than men left the workforce. In December 2020, women, particularly women of color, accounted for all of the American jobs lost. More than 100,000 women in Kentucky have been forced out of the workforce.
The key to these women's reentry is the key to a successful economic recovery: expanded access to high-quality child care.
Before COVID, Kentucky had a child care problem to match its workforce problem. In some parts of the state, the problem was access, with far fewer slots in child care centers than families who needed care for their children in order to work. One in six families with children ages 0 to 5 reported that child care issues affected their employment, while 50% of Kentuckians lived in a child care desert.
In other areas, the problem was affordability, with some centers in Louisville charging more than $300 a week for an infant's care. The U.S. Department of Health and Human Services defines affordable child care as costing no more than 7% of a family's income, but the average family is paying more than that in all 50 states.
Now that COVID has shown us how critical child care is to our labor force, we must expand and strengthen the early childhood care and education ecosystem in Kentucky if we expect better outcomes.
This is a proven solution. After Washington, D.C. began offering universal pre-K in 2009, the city saw a 10% increase in the number of women with preschool-aged children who were working, putting mothers of very young children in the labor force at the same rate as mothers of elementary-age children.
Currently in Kentucky, families making at or below 160% of the federal poverty level qualify for state child care assistance through the Child Care Assistance Program, CCAP, and public preschool programs. My House Bill 106 would raise that eligibility to 200% of the federal poverty level for child care centers while my House Bill 64 would do the same for preschool, granting access to thousands more families.
It's important to note that we must also take additional steps to strengthen child care providers so they're ready to support more kids and families. For centers that accept dollars from the Child Care Assistance Program, advocates are calling for an increase in the reimbursement rate from the state, up from the low $20s where it sits now. The true cost of providing high-quality care to one child for a full day is somewhere around $45, so we've got a long way to go.
Lend your voice to the fight for kids and families. Click here to contact your legislators: Support a Strong Start for Kentucky's Children – Invest in Child Care!
GUEST WRITER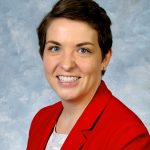 Josie Raymond | State Representative, KY House District 31
DISCLAIMER
The Greater Louisville Project is providing this blog as a public service, but it is not a statement of GLP policy. Reference to any specific product or entity does not constitute an endorsement or recommendation by the GLP. The views expressed by guests are their own and their post on the GLP website does not imply an endorsement of them or any entity they represent. If you have any questions about this disclaimer, please contact us.