Healthy at Home (If You're Lucky)
December 17, 2020
As a supplement to our report on Housing Justice, the GLP has invited experts working with housing in Louisville to share their thoughts. This is one of those posts. 
Last week, South Louisville Community Ministries received a call from a family that literally lost everything. Not from a fire, but from an eviction. The sheriff was ordered to go to their house and to take all of their belongings out and onto the sidewalk. It's a devastating thing to behold especially when you can see Christmas decorations and children's pajamas laid out on top of the pile. Fernando, the father of three children, said to me, "People I thought were my friends came to take our belongings". He pointed to his shoes without laces saying that these were the only ones he had now because that's what he put on when the Sheriff came.
This family is now sleeping on the floor of their neighbor. After she saw what happened she couldn't not let them in her home, she said, but the two-bedroom home is too cramped for them to stay for much longer. With mass evictions on the horizon, we have to acknowledge the danger of increasing the spread of COVID-19 by doubling-up and couch surfing. We cannot stay healthy at home when we are forced to leave the premises.
The question is, how did this happen? How are there children homeless in the middle of a pandemic? There must be a reason, right? 
In fact, Fernando did everything in his power to keep his family housed. Everything he was "supposed to" do: 
1) Fernando applied for unemployment insurance. He was an independent contractor and lost multiple jobs in people's homes due to COVID. When he saw that his income was going to be depleted he applied for unemployment insurance. He received one check, but then they stopped coming, and he doesn't know why. He's been on the phone for hours with the state, but to no avail due to thousands of people also trying to find answers. 
2) Fernando applied for rental assistance, but the landlord refused to accept those funds. Unfortunately, it is not legally required for a landlord to accept rental assistance and many people are facing eviction due to landlords refusing payment.
3) Fernando tried to go to eviction court. Court is now happening through Zoom due to the pandemic. When he tried to sign in during his court date, it said that the code was incorrect. Earlier this year, this happened for a period of time due to technical error (not user error) according to Legal Aid. This process also assumes a capacity that includes digital literacy, English comprehension, and internet access.
4) Fernando signed the CDC Declaration. The current moratorium on evictions is not a catch-all process. He sent it to his landlord, but because he did not send it as certified mail and was not able to attend court, he could not prove this was the case. Landlords can very easily say they never received the document if the client is not represented by an attorney.
Footnote: The moratorium is also only for people who are being evicted for nonpayment. On December 10th, a landlord is evicting an 88-year old veteran who has lived in his home for over a decade because the landlord terminated his month-to-month lease. Landlords use a loophole in the CDC Order that allows landlords to evict for "lease violations", so this man's "violation"—in a pandemic—is overstaying the term of his lease. After 10 years. Now that he has an eviction on his record, he has nowhere to go.
English is Fernando's second language. His truck no longer runs. He lost all of his equipment for his work during the set-out. He and his wife have two children in elementary school and one in middle school—each child now has one pair of clothing. So where do we go from here? Brace yourselves: there are only dead-ends and the situation is truly dire. Here's why:
1) The shelters are currently full. There are 35 shelter spaces for families for the city of Louisville.  Often there is a wait list of 80 or more families waiting to get into shelter.  The Coalition for the Homeless and all their partners are completely inundated during the colder months and it takes 30-45 minutes waiting on the phone just to be told there are no beds. 
2) Hotel vouchers are available for only one or two nights (if the funding for this is even available which fluctuates all the time).
3) To receive any emergency housing assistance, they have to be homeless in the way that HUD defines homelessness. They need to be sleeping outside or in their vehicle. This family, according to HUD, is not technically homeless because they are "doubling up" so, therefore, they are not eligible for the emergency voucher programs.
4) Let's say they do end up sleeping in the back of their broken down truck. The voucher programs have a waiting list from 3-36 months.
5) Property Managers and Landlords have strict policies that they will not rent to anyone with a recent eviction. Alltrade is the only company that has a "Second Chance" eviction program, but it takes more than 6-months to complete. Because having an eviction on your record can cripple a person's chances at finding another place to live, landlords use just the threat of eviction to extract awesome concessions from their customers: money to which landlords are not entitled or the renter can't afford, forcing someone to move out when they have the right to stay
6) There isn't enough affordable housing. We simply do not have enough units that are affordable to the working poor. We could add vouchers and rental assistance, but there are no units that are less than 50% of their regular income. (Currently 27% of Louisvillians are paying more than 33% of their income on rent and utilities.) So even if Fernando somehow gets back on his feet and goes back to work without a home or transportation (please read this as facetious), he doesn't make three times the rent in order to be eligible anyway.
7) There's no money for a security deposit plus first month's rent. To move into a new home is a challenging expense for most people, and the reason why people are evicted in the first place is often due to financial hardship. Let's say we make a fund for those dollars. I offered multiple landlords up to six months of rent and no one would accept either because it came from a third party or because of the no-eviction policy (literally no matter what). 
The takeaway here is that it is *impossible* to find housing after an eviction. And thousands of people are facing an eviction in the early months of 2021. Experts estimate that homerenters in the US are currently between 34 and 75 billion dollars behind on rent. We are working with policies that were meant for a different time with different numbers and even then they were inhumane and unjust. 
Fernando's family is a warning. An eviction is traumatic, expensive (for everyone), and causes long-term destabilization that leads to mental and physical illness/abuse, criminal activity, and social isolation. And we are about to see an unprecedented number of evictions. 
1) The CDC Declaration will end on December 31st. There are more than 500 families who have pushed their hearing for January 8th after submitting the CDC Declaration. Eviction court is booked with 80 families every day who are facing an eviction. There's an estimated 26,000 families in Jefferson County who could face an eviction without a significant relief package. There may be an extension on this moratorium, but we have to be prepared for a local moratorium if the extension does not happen. 
2) Rental assistance ends on December 30th. The city allocated $21 million for rental assistance through the CARES Act funding. These funds expire at the end of the year, and there is no telling when exactly tenants will have access to new relief dollars. While there may be more funds coming, it is no longer possible to get these funds to the people who will be facing an eviction in the early (and cold) months of 2021. There are currently more than 1000 households waiting for assistance and thousands more who do not know how to access this support.
3) We're kicking a can down the road (and it's snowballing). The Community Ministries launched StopMyEviction.org in August, and while we served more than 1,000 families since then, we are now seeing a significant increase in requests for assistance. The pandemic is not over and people are still desperate. It is estimated that Jefferson County would need more than $100 million to prevent all of the upcoming evictions.
 4) There is no infrastructure to help these families. We do not have the shelters, personnel, or social programs to restabilize and rehouse thousands of neighbors. I did find a new home for Fernando's family, but this work of finding a home and new belongings took me 20-30 hours and $5,000. It was also only possible due to the kindness of strangers, crowdfunding, and years of building social capital. This is not a systemic solution.  
We have to come to grips with the fact that our leadership is failing us on this issue. People will die, children will be traumatized, and thousands of people will have the impossible task of starting from nothing. So where do we go from here?
1) We need a local eviction moratorium. People are already terrified that their belongings will be taken from their homes after Christmas. And, they're making bad decisions about whether to go to work now, even though they might be feeling ill, because they need to make money now to either stay where they are or to have after an eviction. People need stability NOW. This game of political chicken is hurting people. Tell the Mayor we need this now.
2) We cannot go back to normal – we need a permanent eviction prevention fund. Before the pandemic, we did not have a city-wide fund for rental assistance as eviction prevention. There was only one program and it was for people who are working consistently, which excludes most people who are in crisis facing an eviction (think of new mothers without parental leave of someone who becomes ill or needs surgery and has to leave work for a time). We need to begin to think of how to build a fund for rental assistance as the most direct and cost effective way of preventing an eviction and homelessness.
3) Louisville needs modern, localized housing laws. Louisville's landlord-tenant laws are almost fifty years old. In Kentucky, we have two systems of landlord-tenant law. The "modern" version, which cities like Louisville and Lexington have adopted, is 50 years old. Places that have not adopted the Uniform Residential Landlord-Tenant Act (URLTA) have even more outdated laws. Lawmakers in Frankfort have made it so that if cities like Louisville adopt URLTA, those cities can't pass any other laws related to landlord-tenant issues. That's just wrong. We need the option to pass modern ordinances that level the extraordinary power imbalance between landlords and tenants.
4) We need Housing Navigators to identify the limited options we have for affordable housing, build relationships between landlords and nonprofits, support community-led efforts building affordable housing opportunities, and to help individuals in crisis find housing that makes sense for them.
And to help bolster the cause, George Ecklund with the Coalition for the Homeless sheds some light on *why* we are facing such a systems failure:
Since March of 2020, we have been living with the decisions that we have made for the past 20 years.  The pandemic world that we navigate every day has exposed these fissures and shortcomings in the trust that we have placed with institutions.  When they were called upon to heed the call of help, we were left on hold and waiting for the promised assistance. 
This is not to degenerate the thousands of civil servants that go to the office with the hope of helping people and fulfilling the promise of government.  We have defunded our government institutions, our public safety net in the name of becoming as efficient as possible.  This idea that we can run government and assistance programs like a business has led us to look for cost savings wherever they could be found. Oftentimes, the push for efficiency and cost cutting resulted in a position being eliminated, offices being removed from the areas that need them,  or not making the necessary infrastructure investments.  One can point to the current state of our unemployment office as a prime example.  Years of neglect and defunding left us with a system that could not rise to the occasion that Covid-19 presented to us. 
The most harmful choice that we have made over the past decades is buying into the belief that being poor is a moral failing on the part of a hard working person. This perpetuates the idea that we as policy makers should take a paternalistic viewpoint in how we administer assistance and programing.  We strive to serve the "deserving" poor, those that hit a string of "bad luck" and poor choices and with the appropriate intervention they will know better next time. A common example of this is when an organization or entity provides assistance on the condition that someone attends budgeting classes. To this day I will always say that families that are living paycheck to paycheck know more about savings and budgeting than I could ever hope to learn. Their margins are so slim, and the risk so great that they have an expertise to make every dime go the furthest.
We as humans, builders of programs, efficiency experts, administrators, and policy makers have placed an emphasis on building systems that are as efficient as possible through the form that a program takes. Frederick Taylor, the purveyor of Scientific Management, believed that people should be viewed as parts of the machine and that there is a farm that each person must follow in order to be as efficient as possible. 
This belief is still prominent in public administration and has led us to place a primacy on form over the function of the programs that we administer. The focus on efficiency and form fails to take into account the most important component of the program: the user. The people that have to navigate the system should be placed as the focus of the programs we are building. Our well meaning intentions of creating perfect efficient systems impact people by creating barriers and hoops that have to be navigated. These barriers perpetuates power dynamics and locks people out of programs that could make a difference in their lives all because their reality was not considered when building the systems. We have lost sight of what is the most important of our work: We are trying to help people. 
I hope you have time for one more guest writer to answer the questions we know many are thinking. Celine Mutuyemariya, a Community Health Worker with Shawnee Christian Healthcare Center, helps answer these inevitable questions:
Why doesn't he just get a job?
There are many people working 40 hours per week who cannot afford the cost of rent. There is a plethora of research showing how cost of living has steadily increased while wages remain stagnant. The conversation around housing security cannot be reduced to whether or not someone is working—especially when we consider the millions of seniors and disabled adults living on a fixed income who struggle to manage their daily needs, including housing. We are dealing with a scarcity issue. There are not enough homes for people to rent which creates competition for housing and impacts the cost. When we think about housing, it is critical to acknowledge the lived experiences of our essential workers; those who make it possible for the rest of us to work from home; those who risk their lives to keep gas stations and grocery stores open and are expected to live on $9 per hour. Getting a job does not address the nuance and complexity of housing security. Here's the answer: Provide a living wage AND build more affordable housing and create innovative styles and options for providing stable housing.
What about the landlords?
As of late, the conversation around housing support has pitted two groups against each other. Landlords vs. tenants/homerenters. Our state and local governments watch from above as everyday people fight for the limited housing options provided.  Housing is a human right for all, for both landlords and homerenters. Nevertheless, as we work towards an antiracist and equitable world, we must acknowledge the inherent power differentials that exist between landlords and tenants. It is a privilege to have enough generational wealth to own and rent property. Those who hold this privilege cannot be blamed for it, but they can be held accountable for acknowledging and using this inherent power responsibly.  Landlords and home renters should work together, as the tax-paying voters they are, to demand that our state and local representatives take action to address the lack of resources that exist for those with the least amount of power in relation to housing.
GUEST WRITERS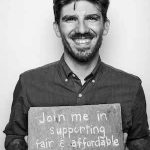 George Eklund joined the Coalition for the Homeless in 2019 as the Director of Education and Advocacy. He works with community groups and advocacy groups to develop and coordinate campaigns to end homelessness. George grew up in Morehead, Kentucky, and attended Western Kentucky University. Upon graduating, he moved to Louisville where he spent three years doing community organizing for the Network Center for Community Change (NC3). Following his tenure with NC3, he spent four years traveling, consulting with nonprofits, and biking across the country to raise money for affordable housing. George returned to Louisville in 2016 to work with the ACLU of Kentucky and earn a Masters in Public Administration. In his free time, George enjoys cycling, cooking, spending time outside, and do-it-yourself projects.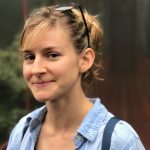 Clare Wallace is the Executive Director of South Louisville Community Ministries. She grew up in Upstate New York and attended Syracuse University where she earned a dual B.A. degree in Policy Studies and International Development. After school she traveled throughout Asia vetting and consulting nonprofits for the GlobalGiving Foundation, and then moved to Washington, D.C. to work on their team. Clare spent another two years "in the field" with the Peace Corps as an agriculture volunteer in Senegal, after which she found her way to Kentucky. She's since made South Louisville her home. Formerly the Director of Development at Americana World Community Center, she also serves on the board of the Louisville Asset Building Coalition and is the Vice-Chair of the Association of Community Ministries.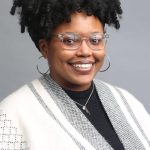 Celine Mutuyemariya is the Community Health Coordinator at Shawnee Christian Healthcare Center and has been a Community Health Worker (CHW) since February 2018. Celine received an M.Ed. in community counseling from Loyola University Chicago in May 2016 and a B.A. in psychology from the University of Kentucky in 2014. Celine believes that the cause and exacerbation of all health problems are rooted in issues related to the social determinants of health (SDOH). Celine believes in using a person-centered approach to build rapport and trust with clients. She provides support through health education programming and by helping patients access and navigate community resources. Celine works primarily in the community to meet patients where they are and to better understand, advocate and help manage barriers to health and wellness with the goal of building resilience and improving health outcomes.
DISCLAIMER
The Greater Louisville Project is providing this blog as a public service, but it is not a statement of GLP policy. Reference to any specific product or entity does not constitute an endorsement or recommendation by the GLP. The views expressed by guests are their own and their post on the GLP website does not imply an endorsement of them or any entity they represent. If you have any questions about this disclaimer, please contact