Decode Project Equips Students with Literacy, Mentorship, and Confidence
April 28, 2021
"I probably behaved that way because I didn't know how to read. I didn't know how to do it. And now I do." – Louisville First Grader
Most Americans assume we left our literacy struggles behind after the 2001 No Child Left Behind Act (NCLB). One reason for this belief is the NCLB coincided with real gains on national tests. A widely cited NAEP analysis shows statistically significant gains in math attributable to NCLB, but no evidence for such gains in reading.
Sean Reardon, Senior Fellow of the Stanford Institute for Economic Policy Research, found that nationally the law didn't achieve its goal of closing "achievement gaps," even though some states saw some improvement.
Today, one in five students have a language-based learning difference, meaning they have difficulty understanding and using spoken and written language—dyslexia being the most well-known language-based learning difference.
45 million adults in the United States are functionally illiterate. Since you're reading these words now, you likely can't imagine what it would mean to be illiterate. To be unable to read the dosage and instructions on your medication, unable to read a ballot and engage in the most basic act of democracy, be at the mercy of strangers who tell you to sign your name on forms at the bank you cannot understand.
The long-term effects of illiteracy are devastating—higher rates of incarceration and decreased life expectancy among them.
Shortly after beginning her role as a local school counselor, LaToya Whitlock discovered many of the behavior challenges students faced stemmed from a lack of reading skills.
As of the most recent National Assessment of Educational Progress in 2019, 65% of Kentucky fourth-graders are not reading at grade level. In Jefferson County, that number jumps to an alarming 70%.
As a city, our education failures land disproportionately on Black and brown students and students from low-income households. 71.7% of the JCPS 4th graders not reading at grade level are Black or brown students.
Data often falls short in its ability to fully portray and examine what led to the existing numbers in the first place. What is the "why" behind the data? The context? The history? The policies that got us here? And who holds power to bring about meaningful change? Who is responsible for making it right, equitable?
In justice work we often say systems are not broken, they are operating exactly as designed. If this is true, what does it mean for our education system? If it was designed so that some kids attend schools where their needs go unmet due to lack of funding, what needs to change?
The story often untold by the media or in our history books is the intentional divestment from the West End that took place during urban renewal. Most residents of the West End know it because it is their story. What most residents of the East End don't realize is that it's also theirs.
What we have—in Lousiville and across the nation—is not an "achievement gap." What we have is an opportunity gap resulting from decades of racist housing policy and white flight. We arrived at our current reality—where nearly 72% of students who struggle to read are Black or brown—intentionally, and it will take intentionality to create a different future.
This is why, in 2019, Whitlock along with colleagues Christa Rounsavall and Chenoweth Allen, launched Decode Project (DP). DP is eliminating inequities in education by fostering a diverse group of learners prepared to navigate the world. Our goal is equity in education. Our work is to close the opportunity gap between Louisville students by providing West End students who have learning differences and/or financial barriers access to effective structured literacy instruction.
We do this in three key ways:
We Train Literacy Mentors – We prepare future educators and community leaders with training in evidence-based, multi-sensory Structured Literacy; anti-racist/anti-biased relationship building; resilience-building; and trauma-informed care.
We Teach Kids to Read – We partner students not yet reading at grade-level proficiency and/or showing signs of dyslexia, with Literacy Mentors using effective structured literacy methods.
We Develop A Network of Advocates – We provide workshops, resources, individualized reports, and advocacy support for caregivers, community agencies, schools, and educators. We work to ensure that all students are provided with access to the necessary resources to become skilled readers.
Most teachers are not equipped to address the needs of the 20% of students who need structured literacy instruction—especially beyond the 4th grade. Traditional methods of teaching literacy do not work for these students and, without intervention, they are left to fall farther and farther behind.
DP prioritizes students most in need of structured literacy. We reach those who are overlooked or written off by the school system and ensure they are equipped with a strong literacy foundation—a key to equity.
Our Literacy Mentors—predominantly UofL MLK and Honors Program students—are paid staff, trained to collaborate with students and families to build a more inclusive learning community where all students are seen, heard, and given the resources to achieve their personal best. Students meet with Literacy Mentors for an hour up to three times a week.
By recruiting future educators to work as Literacy Mentors, we are creating a more equitable future in education.
DP is helping students be seen and helping adults to see them. We are changing the education narrative together by centering students who have been pushed out of the conversation and left behind.
Evidence indicates early structured literacy intervention has both immediate and long-lasting positive effects on overall scholastic achievement. As students cultivate relationships with their Literacy Mentors, they build resiliency that helps to alleviate frustration. As their reading skills improve so does their confidence, leading to a more positive school and home life experiences.
Students with early literacy interventions are four times more likely to graduate from high school. A high school diploma leads to increased academic and career prospects, greater earning potential, positive overall health incomes, increased participation in civic engagement enabling them to contribute to their communities in meaningful ways, raise readers themselves, and live longer healthier lives.
In the short-term, our students not only make academic gains, they also experience notable increases in morale as shared by Julio Anthony, Program Director at St. Vincent de Paul's Family Success Center. "I began to see a love for reading and a positive behavior swing for those that were receiving help from Decode Project. The bond that our Family Success Center participants shared with DP was incredible! This program helped our participants to establish trust when other educators counted them out."
As a small organization dedicated to equity in education, our work is giving kids the gift of literacy. We cannot be with them as they navigate a world hell-bent on pushing them out or treating them as less than, we cannot be with their parents as they navigate phone calls from disgruntled teachers and IEP meetings, but we can equip them with the skills they need to navigate the world as it is, as we all, collectively, work towards creating a more just, loving, and equitable world for our young people.
As Frederick Douglass said, "Once you learn to read, you will forever be free." We concur. Reading is the freedom to build, bake, or create anything you want. It is the gift that keeps giving. Young people who are equipped with literacy and the confidence to believe in themselves and their ideas have the power to transform society.
Decode Project envisions a world where all children have equitable access to educational resources and opportunities—no matter their zip code or skin color.
To follow the Decode Project and support the work of equity in education, sign up for our newsletter and follow us on Facebook, Instagram, and Twitter.
GUEST WRITERS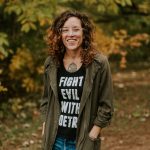 Lindsy Wallace lives in Louisville, Kentucky with her husband and five kids. She is passionate about the power of words, ushering in a more livable planet, and good tattoos.

Lindsy Wallace, Communications Coordinator, Decode Project

lindsy@decodeproject.org

(502) 509-1814

DISCLAIMER
The Greater Louisville Project is providing this blog as a public service, but it is not a statement of GLP policy. Reference to any specific product or entity does not constitute an endorsement or recommendation by the GLP. The views expressed by guests are their own and their post on the GLP website does not imply an endorsement of them or any entity they represent. If you have any questions about this disclaimer, please contact us.